Resources
Here is the link to Stellarium - a planetarium program that will show you the sky for any time or date. It's invaluable for planning a star gazing session.
Download / install (it's free for PC), then all you really need to get going is to set your location. To do this, run the program and hover the mouse on the left edge of the screen - the top menu item is 'Location'. Click on this to get a world map and alphabetical list of locations - any location in the west of Ireland will work well, but you can can click on your exact location in Google Maps to get your latitude and longitude and enter these by hand. Tick the box 'Set as default'.

The full user manual for Stellarium is also on the download page.

Stellarium allows you to install custom landscapes. A panorama at the viewing point at Ballycroy National Park Visitor Centre (with installation instructions) can be downloaded here. A panorama at Burrishoole Abbey, where the club does most of its observing, can be downloaded here.



Astro Panel is an astronomy weather forecast app. Forecast data includes: - Cloud cover, Seeing, Transparency, Humidity, Wind, Temperature and lots more.
Accuweather also has weather forecasting for astronomy - the link will take you to the predictions for Newport.

The Astronomy Picture of the Day is always worth a look; NASA's own gallery pages are also very worthwhile.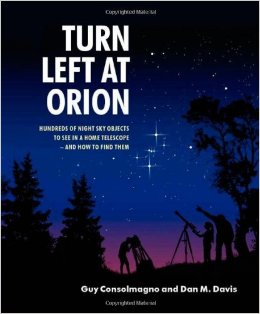 A superb guidebook described in Bookwatch as 'the home astronomer's "bible"', Turn Left at Orion provides all the information amateur astronomers need to observe the Moon, the planets and a whole host of celestial objects. Large format diagrams show these objects exactly as they appear in a small telescope and for each object there is information on the current state of our astronomical knowledge.